As modern society becomes more connected, many seek solace in nature, craving a space to unwind and rejuvenate. Outdoor living spaces are trendy and here to stay and are a natural extension of our indoor spaces, offering a seamless blend of comfort and natural beauty. Whether you have a sprawling Albuquerque backyard or a cozy balcony, creating an outdoor oasis that reflects your style and meets your needs is within reach. Today we'll explore the key elements and design considerations that transform your outdoor space into a haven of tranquility and functionality.
Before diving into the design process, evaluating your outdoor space is essential. Consider its size, shape, and existing features that may impact your design decisions. Understand the sunlight exposure throughout the day, as it will influence the choice of plants, seating, and shading options.
Second, you'll need to determine the purpose of your outdoor living area. Are you looking to create a cozy conversation area? A vibrant dining spot for entertaining guests or a meditation corner for quiet reflection? Defining your purpose will guide the selection of furniture, lighting, and accessories that align with your intended activities.
Next will be figuring out your furniture and the layout of the space. The right furniture can be the cornerstone of your outdoor living space. Opt for weather-resistant materials and comfortable seating options that invite relaxation. Consider the area's layout and flow, ensuring ample space for movement and interaction. Layering with cushions, throws, and rugs can add comfort and style.
Pay attention to lighting. Thoughtful lighting choices can elevate the ambiance of your outdoor space, extending its usability well into the evening. Experiment with lighting fixtures like string lights, lanterns, or solar-powered options. Highlight focal points, pathways, and seating areas to create a warm and inviting atmosphere.
Embrace the beauty of nature by incorporating plants and greenery into your outdoor space. Choosing a mix of grasses, annuals, and perennials ensures a vibrant and evolving landscape. Container gardens, vertical planters, or even a small herb garden can add a touch of nature even in limited spaces.
Remember to create privacy and shady spaces for tranquility in your outdoor living area. Utilize privacy screens, trellises, or decorative fencing for secluded spaces. Integrate shade options such as umbrellas, pergolas, or shade sails to provide relief from the sun. Blend functionality with aesthetics to create a cozy and intimate setting.
Be sure to consider incorporating entertainment options that will enhance your outdoor experience. Integrate a small outdoor kitchen, a BBQ grill, or a built-in fire pit for gathering and dining. Additionally, ensure there are power outlets or convenient charging stations for electronic devices, allowing you to stay connected while enjoying nature.
Designing your perfect outdoor living space is an exciting endeavor that allows you to embrace nature while adding a personal touch to your environment. By carefully considering the layout, furniture, lighting and integrating elements of nature, privacy, and entertainment, you can create a haven that reflects your style and encourages outdoor living year-round. So get inspired, and transform your outdoor space into a true sanctuary of relaxation and connection with the natural world.
Your home is your sanctuary and private oasis. Utilize all your space to make it everything you've always wanted. If you've outgrown your current home, or need to downsize to a home that is more manageable for your current situation, let us put our expert skills to work for you to find the perfect home. Reach out to our team here. 
HOT PROPERTY OF THE WEEK!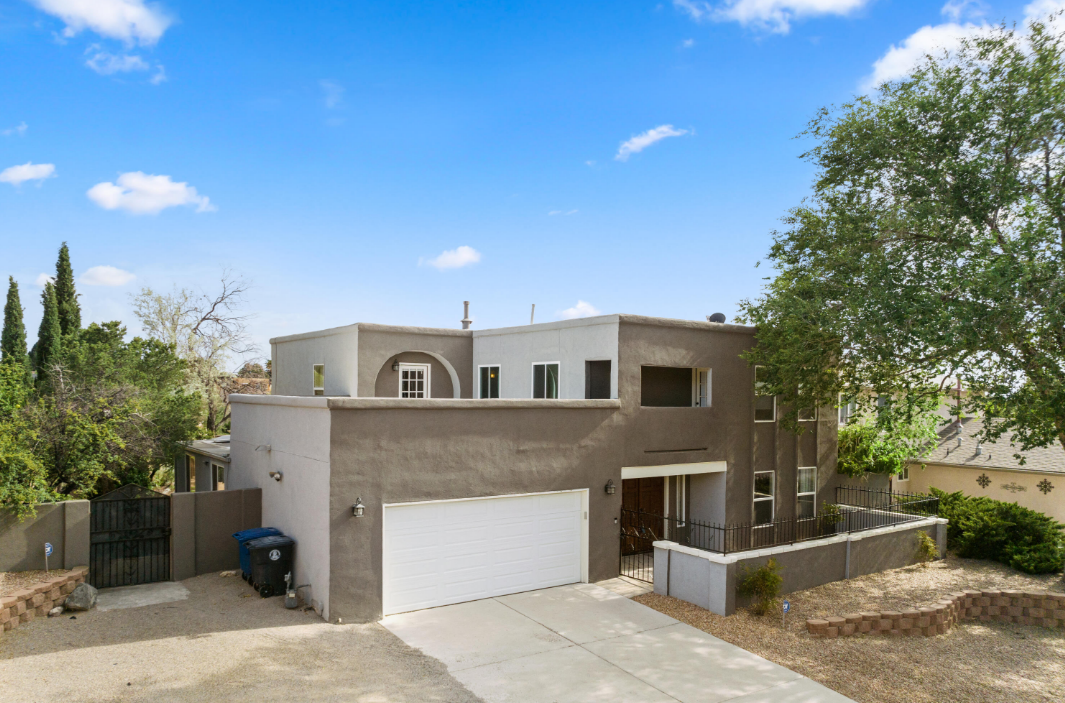 9200 SPAIN ROAD NE, ALBUQUERQUE, NM
Elegance in the NE Heights. Home is fully equipped with an attached casita, mini-split AC/heater, full bath, kitchen and a separate entrance; garage or private door. Casita can be used as an office, Airbnb or rental. As you walk in the home you will be captivated by the high ceilings, skylights and the spacious floor plan. The formal dining and a large living and family room is perfect for entertaining! The kitchen has ample cabinet space, granite and a stainless package that conveys. Home has 2 balconies, 2 fireplaces (one in the master). Master has double sinks, a large walk-in closet and a large make-up station outside of the bathroom. Dimmer switches on all light in bedrooms, kitchens and living rooms. The outdoor is an oasis with serene greenery/flowers; 2 Beautiful lawns and gardens.
START YOUR DAY INSPIRED WITH THE Sandi Pressley TEAM!