Mortgage interest rates being as low as they have been have encouraged many into buying their first home. If you or someone you know is planning on getting a home, here are a few tips that can help the process.
What Can You Afford?
One of the most difficult parts of buying a home is figuring out what you can afford to pay. First-time buyers often rely on the amount the bank is willing to lend or will use a mortgage calculator to crunch their numbers. But banks are will often to lend much more than you are able to afford, and mortgage calculators don't always give all the necessary information. To learn your budget, you'll want to start with the basics.
How Much Can You Afford?
Instead of focusing on the purchase price or lender offers, figure out how much you would be able to spend on a mortgage payment every month. A general way of figuring out how much you can spend is that your mortgage should be between 25 and 30 percent of your income, although 30 percent is sometimes too high for buyers. The best way to find out is to add up all of your monthly expenses and bills and look at the estimates for the cost of utilities for the home you plan on buying. Speak with your real estate agent or local service providers for exact rates.
Don't forget the cost of living changes like groceries, price of gas, and other necessary items. These can change drastically if you're moving to a different location. Another cost often overlooked is long-term savings, some might assume future wage increases will allow them to save money later on. Don't depend on uncertain circumstances when you're planning your house payment.
What Will Your Down Payment Be?
Next is determining how much you can put down on the house. Save as much money as you can, but set aside money for closing costs, inspections, moving expenses and appraisals. If you can set aside enough to put at least 20% down, you will be much more attractive to lenders. Additionally, loan products with a 20 percent down payment requirement are much easier to get if your credit is less than perfect.
If you can't save that much, don't fret. There are plenty of ways to buy a home with little to no down payment, but your interest rates might rise and you'll have to pay PMI.
What is PMI?
Private mortgage insurance or PMI, is the protection lenders use against risky buyers. Buyers who put down less than 20 percent usually have to pay PMI every month as part of the mortgage payment. As the down payment decreases, the PMI rates go up. Talk to as many lenders as you can to learn what you can expect and make sure you ask how long you will have to pay PMI. Some loans, like loans backed by the Federal Housing Administration, will want payments on PMI for the full term of the loan. Other options will allow you to cancel PMI after you've made enough payments towards the main loan.
Does the Interest Rate Make a Difference?
Interest rates on a loan can make or break the deal. A slightly higher interest rate can add lots to a monthly payment.
If you're ready to buy your first home, contact The Sandi Pressley Team to get the process started.
Have An Awesome Week!
Sandi's Hot Home Listing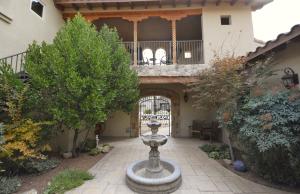 9405 Black Farm NW, Albuquerque
Price: $1,175,000 Beds:5 Baths: 1 Square Feet: 5,005
Current owners built this home, they oversaw each and every detail of this very special Mission Style Home, the meticulous attention to detail shows. A rare find, gracious entry courtyard leads to a separate guest suite, with a private balcony. Main residence features a chef's kitchen, and a gracious floorplan that opens to a large covered and heated patio. Fully equipped outdoor kitchen.
---
AND HERE'S YOUR MONDAY MORNING COFFEE!!