In the heart of Albuquerque, New Mexico, Old Town is a captivating blend of history and ghostly tales. This vibrant neighborhood holds centuries of stories within its adobe walls and cobblestone streets. Embarking on a history and ghost tour of Old Town Albuquerque takes you on a captivating journey through time, where you'll discover the city's cultural heritage while uncovering the mysterious and supernatural side of this enchanting place.

1. Exploring Ancient Roots:
As you stroll through Old Town, you'll encounter the ancient roots of Albuquerque. The Pueblo people initially settled in the area, and their history and traditions are still vibrantly alive today. Discover the secrets of the Coronado Historic Site, where you can explore a restored Puebloan village and learn about the enduring legacy of the indigenous communities.
2. Historic San Felipe de Neri Church:
A visit to Old Town wouldn't be complete without exploring the iconic San Felipe de Neri Church. Built-in 1706, this stunning adobe church preserves the spiritual and historical heritage of the city. Take a moment to admire the beautiful architecture and listen to intriguing stories about the church's role in shaping the community over the centuries.
3. Ghostly Encounters at Old Town Plaza:
Old Town Plaza, the heart of the neighborhood, boasts a hauntingly rich history. Once a bustling trade center, it now teems with ghostly tales. Join a ghost tour led by knowledgeable guides who will regale you with spine-chilling stories surrounding the plaza, its buildings, and the apparitions that are said to wander its streets after dark still.
4. The KiMo Theater:
A true gem in Old Town, the KiMo Theater is a testament to the city's past. This magnificent Pueblo Deco-style theater has been enchanting visitors since 1927. Discover the stories behind its construction and the supernatural occurrences reported over the years.
5. Haunted House Experiences:
For those who crave a spine-tingling adventure, Old Town offers haunted house experiences that guarantee both thrills and chills. Step into the paranormal world at locations like the haunted Simms Building and the haunted Victorian-style home of the Hotel Parq Central. These attractions add an extra layer of mystery and intrigue to your journey through Old Town.
6. Legends and Folklore:
Aside from ghostly tales, Old Town Albuquerque is steeped in legends and folklore. Listen to captivating stories of outlaws, cowboys, and famous figures from the Wild West, such as Billy the Kid and Sheriff Pat Garrett. These tales bring history to life, transporting you to a time of saloons, dusty streets, and unexpected twists.
A history and ghost tour of Old Town Albuquerque offers a captivating blend of past and present, unveiling this enchanting neighborhood's rich heritage and supernatural side. Delve into centuries-old stories, explore historic landmarks, and embrace the eerie and unexplained. Whether you're a history buff, a ghost enthusiast, or simply seeking a unique adventure, Old Town Albuquerque will leave you spellbound with its tales of yesteryear and the lingering spirits that may still wander its streets.
Ready to explore more about this wonderful community we get to call HOME? Check back frequently to our blogs!
When you're ready to purchase your first home, or move up to a new home for your growing family, reach out. We're ready to help you successfully reach your real estate goals.
HOT PROPERTY OF THE WEEK!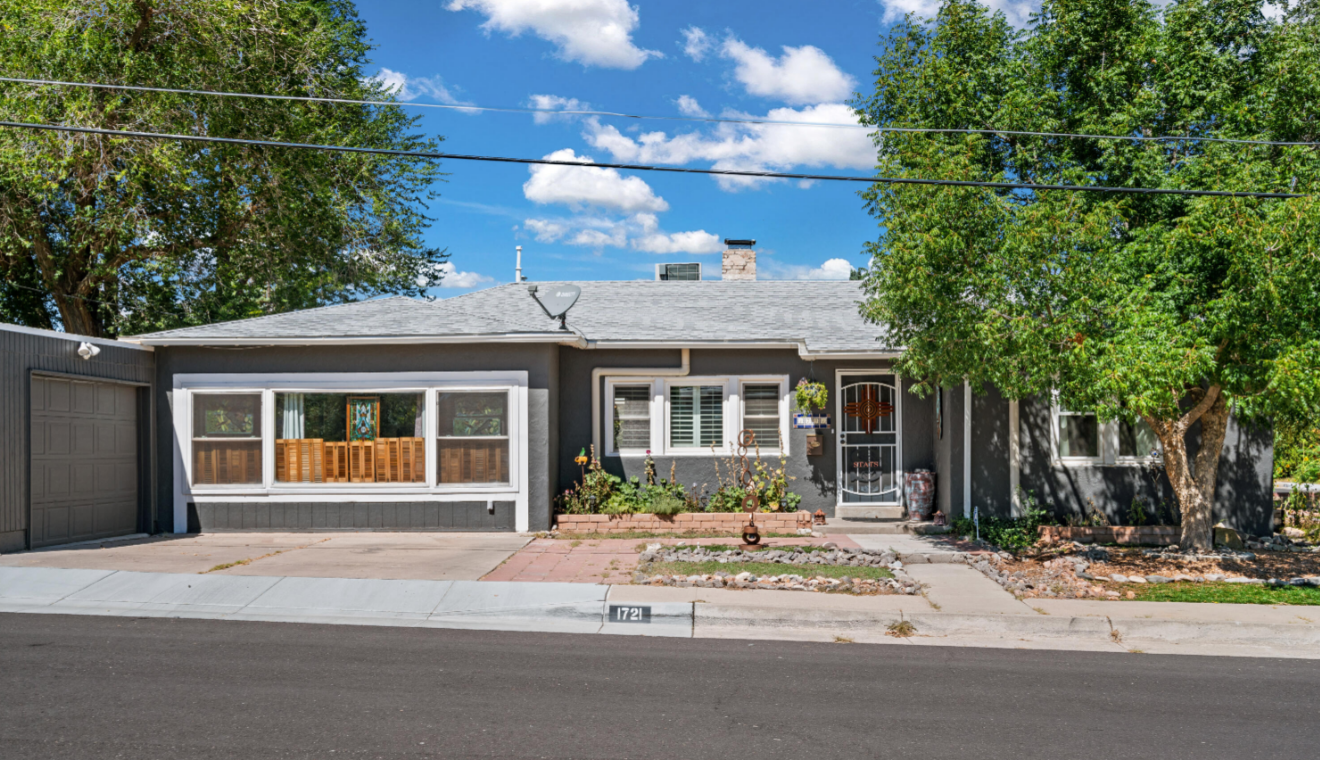 1721 ROSS PLACE SE, ALBUQUERQUE, NM
Welcome home to this charming abode nestled in the heart of Ridgecrest….close to UNM, the VA, restaurants, shopping, and more! This precious house features saltillo tile floors, a beautiful, 2-sided stacked-stone fireplace, renovated bathroom with radiant heat, and is situated on a gorgeous, oversized lot! The backyard feels like a private oasis with mature trees, garden area, hot tub and lovely landscaping. Plus, enjoy modern upgrades like NEW minisplits THROUGHOUT the home for custom climate control and energy efficiency. The cove ceilings, brick floors in the oversized family room, and custom kitchencabinetry all add to the cozy feel…make this one yours today!
GET YOUR MORNING INSPIRATION WITH THE Sandi Pressley TEAM!